Content App User Interface Guide
Content App Features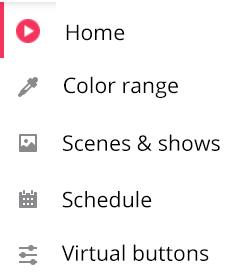 Login Screen

Enter your credentials or register a new account with Interact Landmark-registered credentials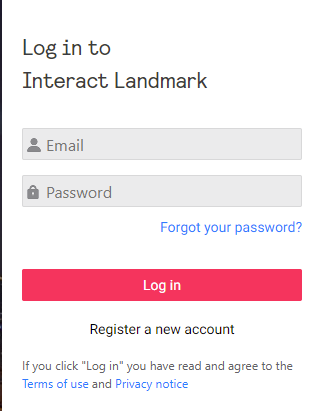 Dashboard
Landing page can be customized with uploaded pictures that correspond to different sites.

| | |
| --- | --- |
| User Interface Icons | |
| Home | |
| Color Range | |
| Scenes & Shows | |
| Schedule | |
| Virtual Buttons | |
Tree Navigation
The Content App utilizes Tree Navigation to allow for macro and micro views of every lighting site, device, show, scene, and individual luminaire.
Device Map Level 1– Search for devices, Select an existing site, or Add a new site.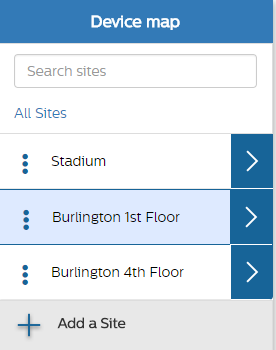 Device Map Level 2 - Selecting an existing site shows the controllers used within the site. You can also add a new controller here.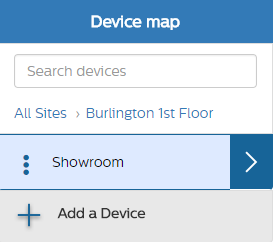 Device Map Level 3 - Selecting a controller displays the lighting zones.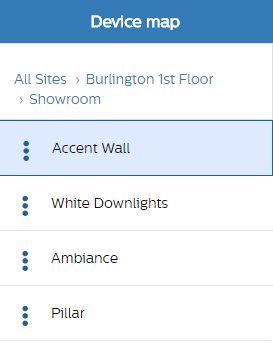 Color Picker
Color Range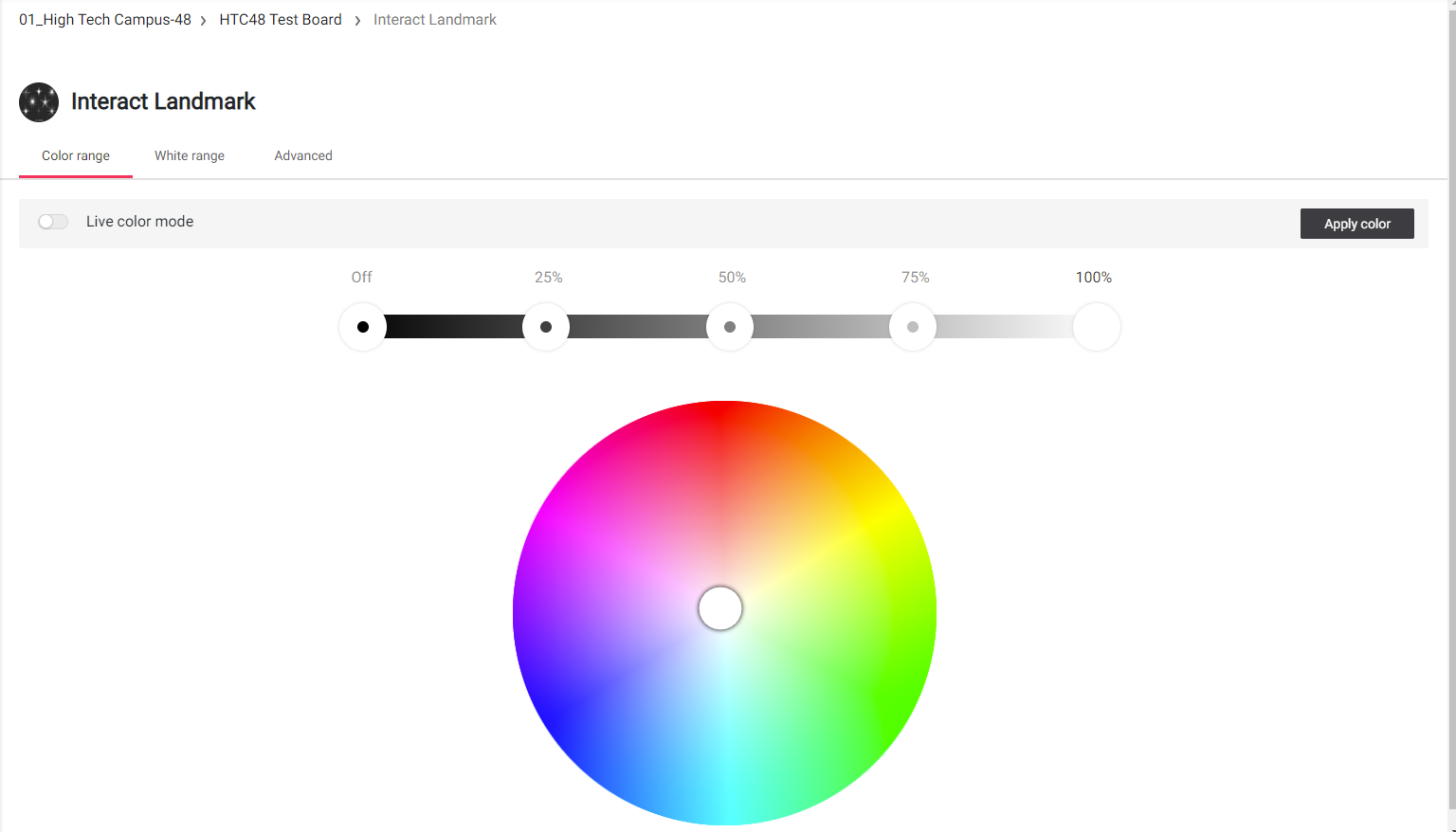 Use the color wheel to choose specific color then click 'Apply' to change luminaire light or turn on 'live color mode' to automatically change color on luminaire when selected.
Depending on the selection made in the Navigation Tree, you can apply the color to one particular zone, an entire controller, an entire site, or for a group of sites.
You can turn off or dim the lights using the dimming options provided.
White Range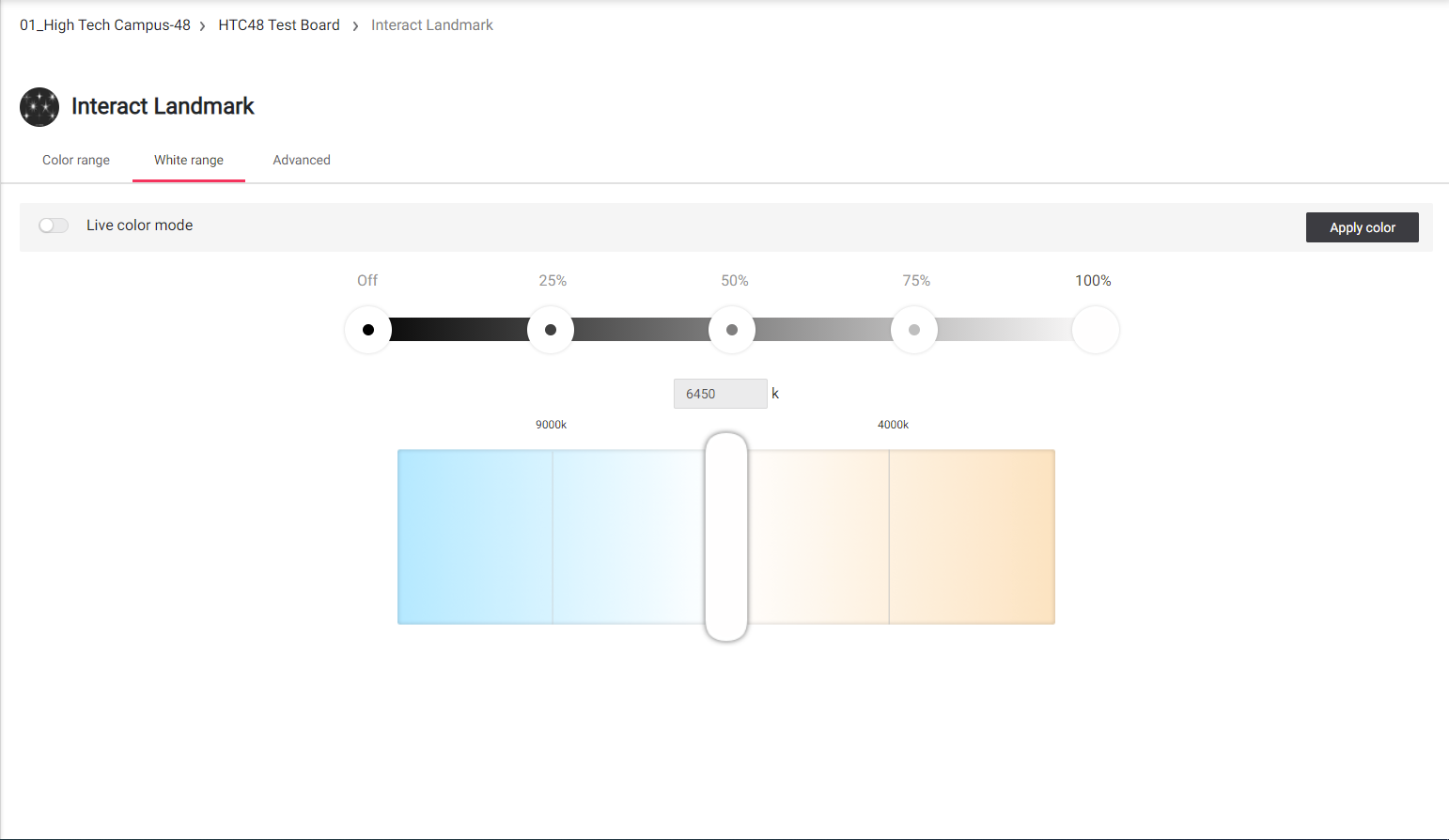 Dial in a precise white color temperature anywhere between 11 000 K and 1 900 K with either of the sliders or by inputting the exact value.
Advanced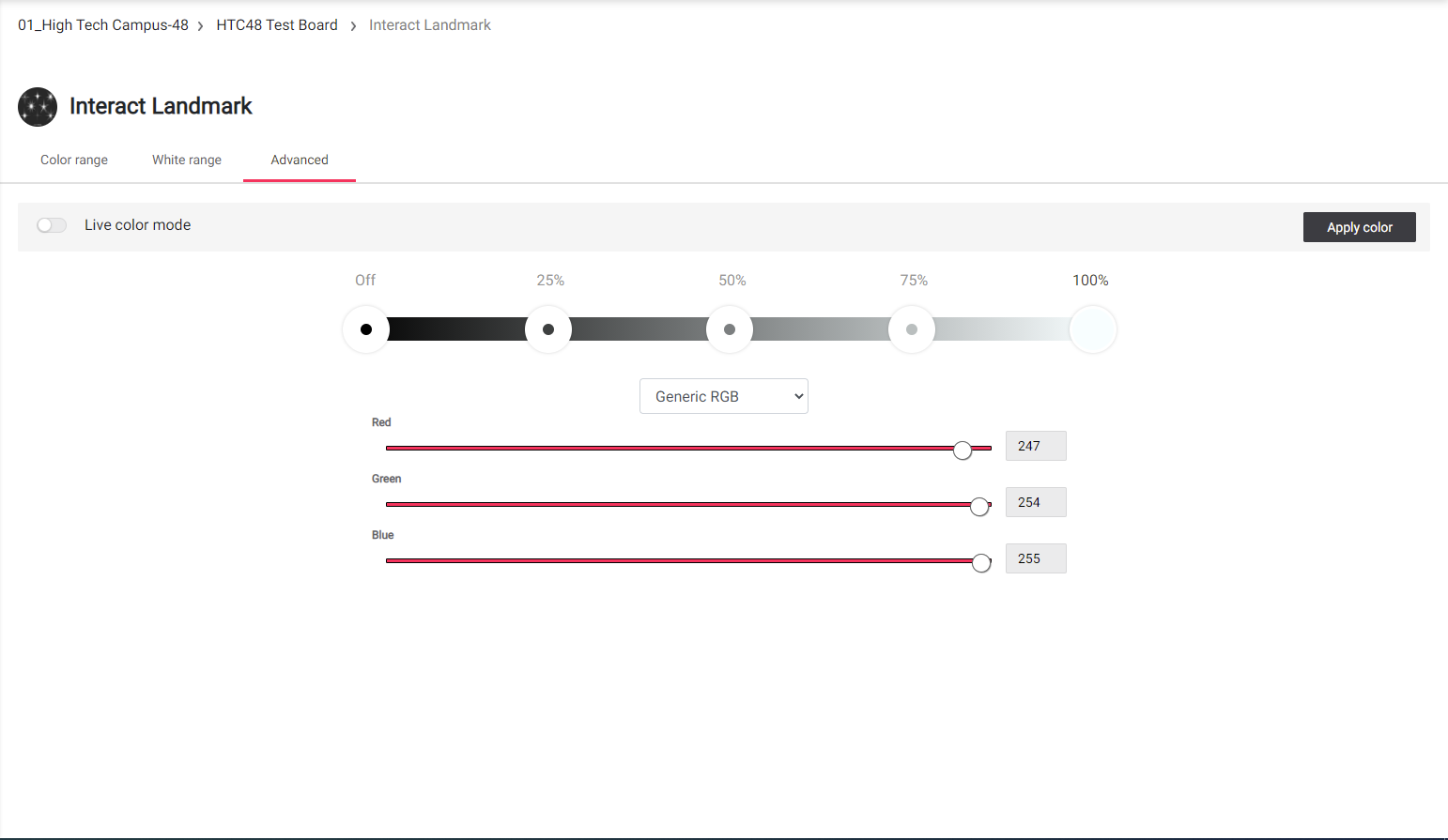 Dial in the exact color value with individual Red, Green, or Blue sliders or input the exact value.
Target Fixture – Chose Generic RGB, RGBA, RGBW, or RGBWA to determine which color sliders are visible.
Scenes & Shows
Scenes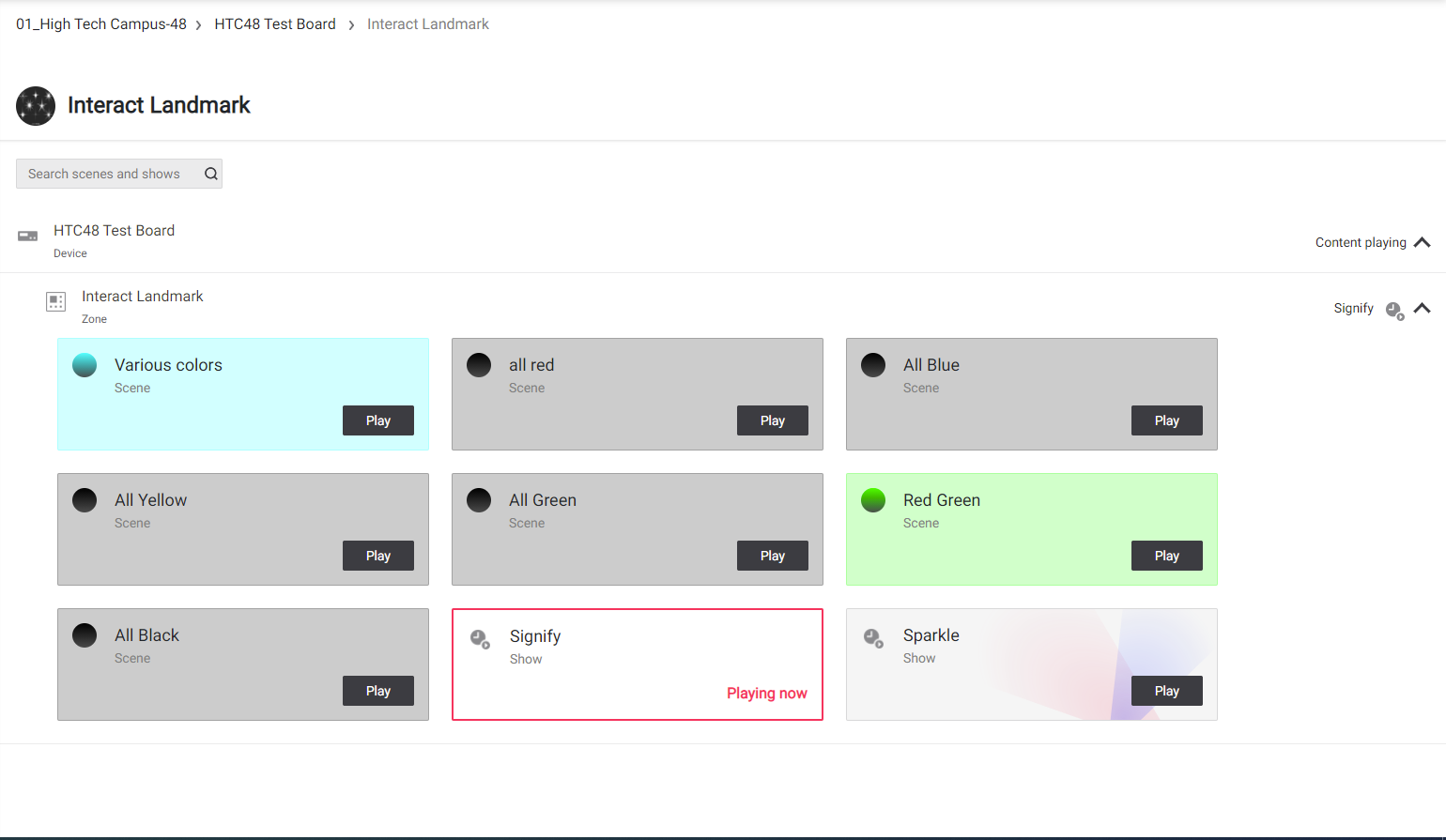 A scene includes only static (fixed color) lighting content.

View and select scenes. A scene will play when selected.

Refresh the Content app to include any newly added scenes on LSE.
Shows
A show includes dynamic lighting content.

View and select shows. A show will play when selected.
Refresh Content app to include any newly added shows on LSE
Virtual Buttons
Virtual Buttons allow you to simultaneously trigger shows from multiple lighting sites, zones, or LSE's.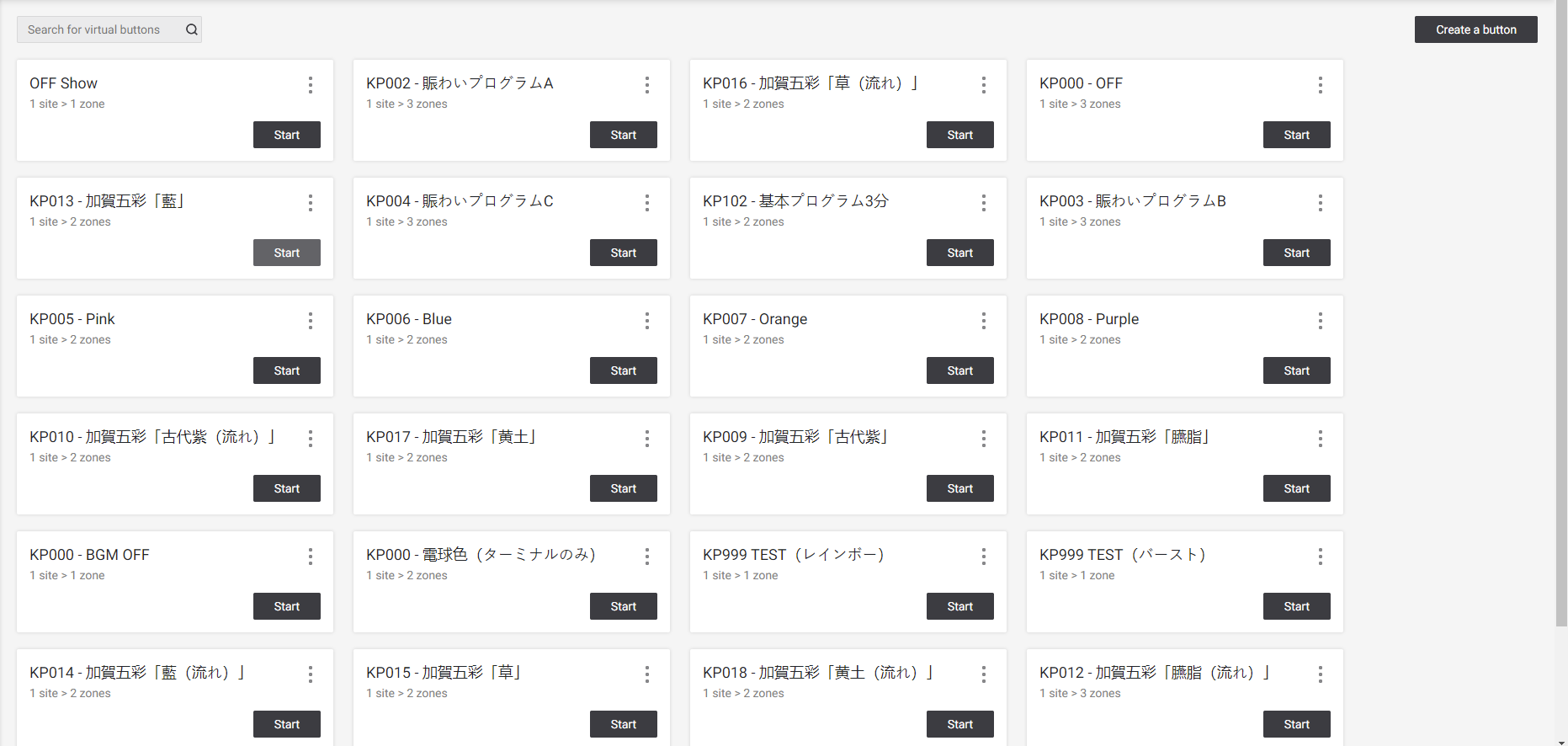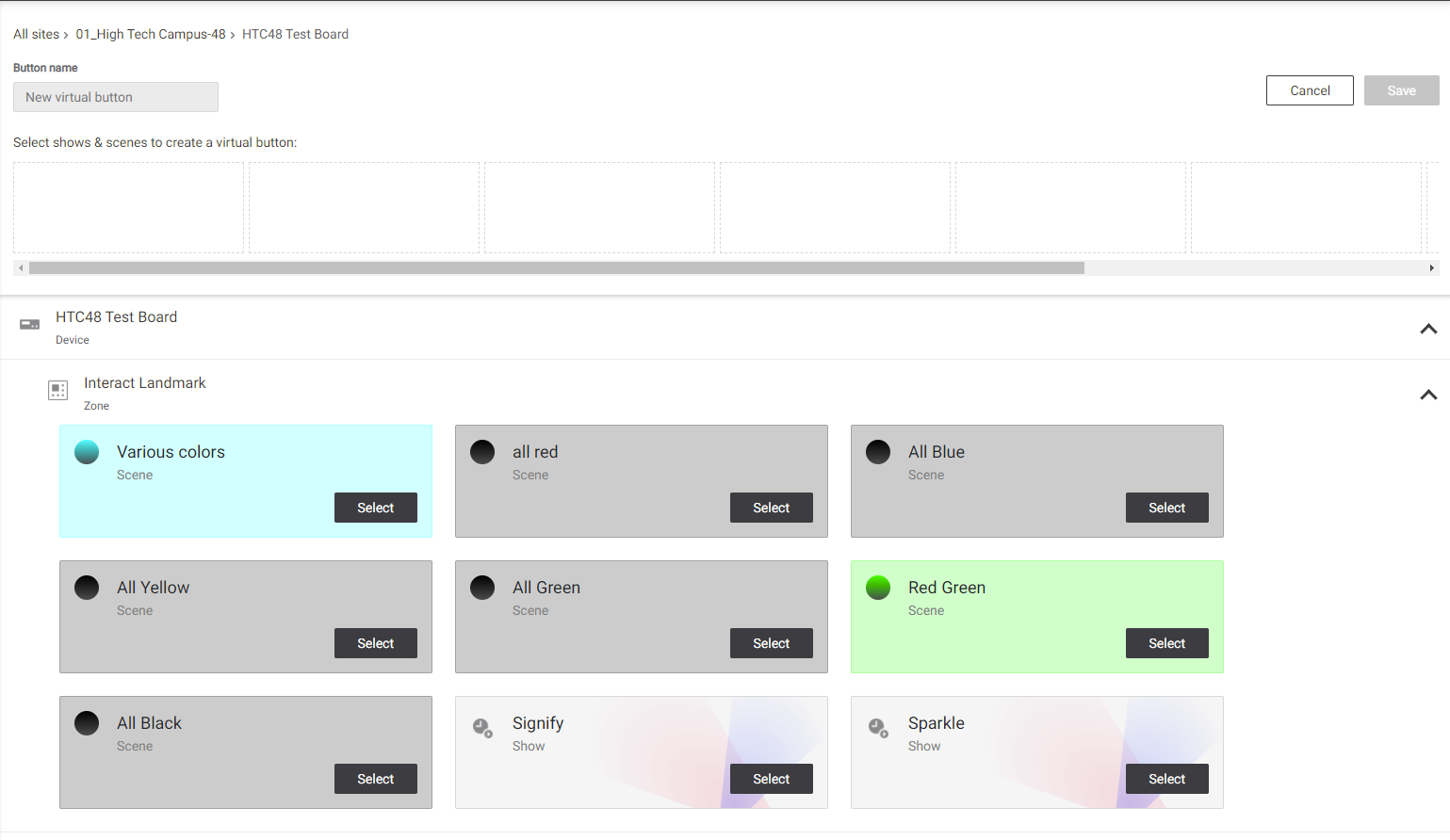 Want to trigger all bridges across the city to turn a specific color when a local sport team wins? Simply select and drag the corresponding scenes or shows to create a Custom Button.

You can choose a scene or show from multiple zones within the same controller, multiple controllers, or even from within multiple sites. It is completely configurable based on what lighting content you want triggered and where.

Once a virtual button is created it can be triggered at any time.

Schedule
Schedule allows you to view the upcoming lighting events on a calendar or what content is coming up next.
Playing next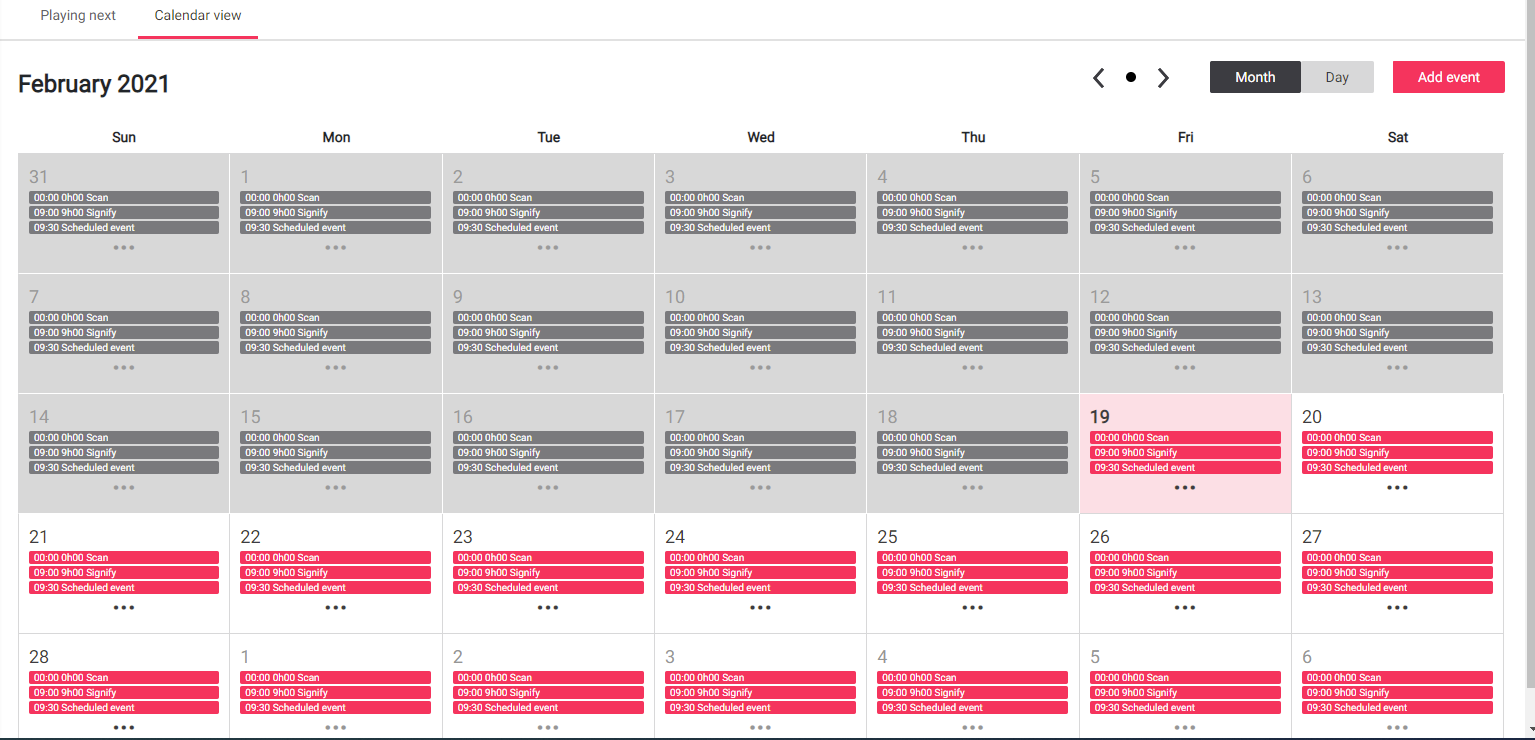 View and select which device will play next.
Calendar view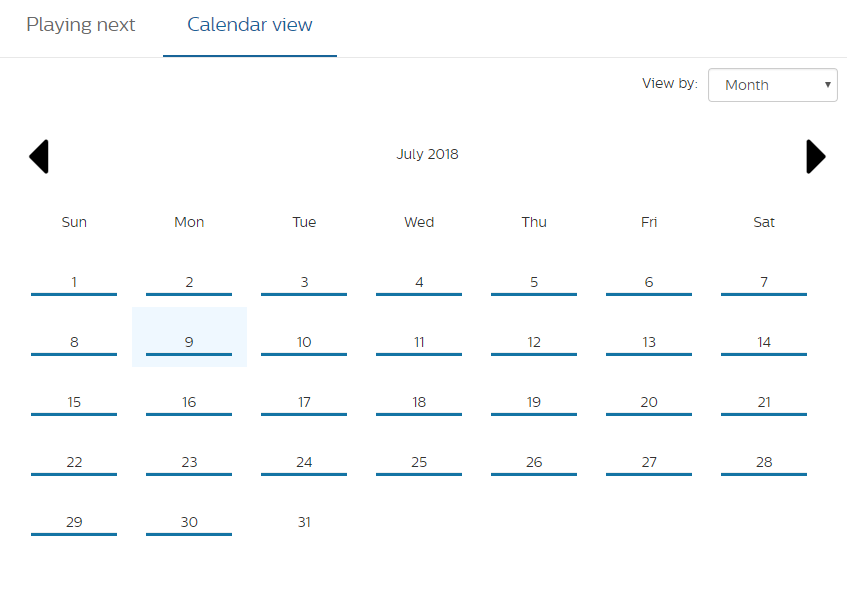 View upcoming show schedule.  


Select 'Day' to view an hourly show schedule of a specific day.
User Management
Managing Users
One of the features of the Content App is User Management. User Management allows registered users to invite, delete, and set Content App privileges for others. When creating a Content App account and registering an LSM for the first time it is important to consider a user hierarchy before sending out user invitations.
The system and the Content App may involve one or more of the following roles:
Customer - The entity that has accepted the Terms. Customer defines and grants or revokes access to and use rights for the System and/or Content App to relevant users, including Installers, Service Providers and End-Users.
Service Provider - A service provider for Customer that has been granted certain access and use rights for the System and/or Content App.
Installer – The person who installs and commissions the System for Customer which includes setting up the Account as authorized by Customer, and inviting Customer via the Account to be able to use the Content  App. Customer may allow that Installers continue to access to the System, Account or use the Content App, also after installation and commissioning of the System
End User - Personnel of Customer that use the Content App as authorized by Customer.
The Customer is solely responsible for (i) all activities occurring under Accounts created by or for Customer; and (ii) for any use the Content App, including by Service Providers, Installers and/or End Users.
The Customer is solely responsible for any invitations to grant access for the use of the Content App are sent to correct and legitimate email addresses.
It highly recommended to keep the Customer credentials in a safe place in the event of changes in personnel. Signify is not responsible for lost credentials or deleting old user accounts, for any issues contact activesite.support@lighting.com
As a Master User you can Invite, delete, and edit other user privileges.
Invite new user by sending an invitation email in top bar
The invited user will receive an email and can choose to accept the invite and then register for an interact landmark user account.
When sending an invitation, you can determine which Sites, Devices, Features, and Permissions the user will have access to.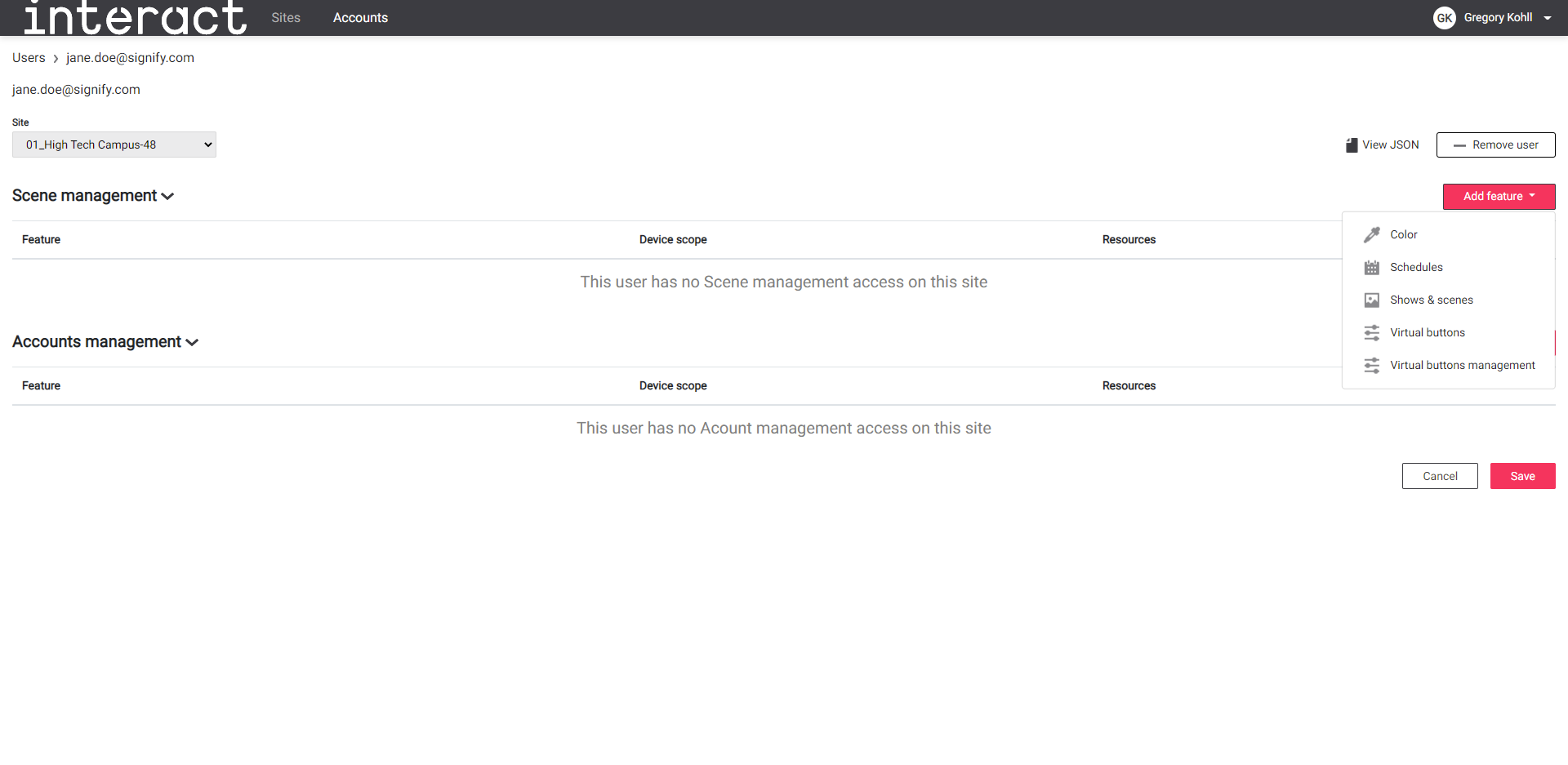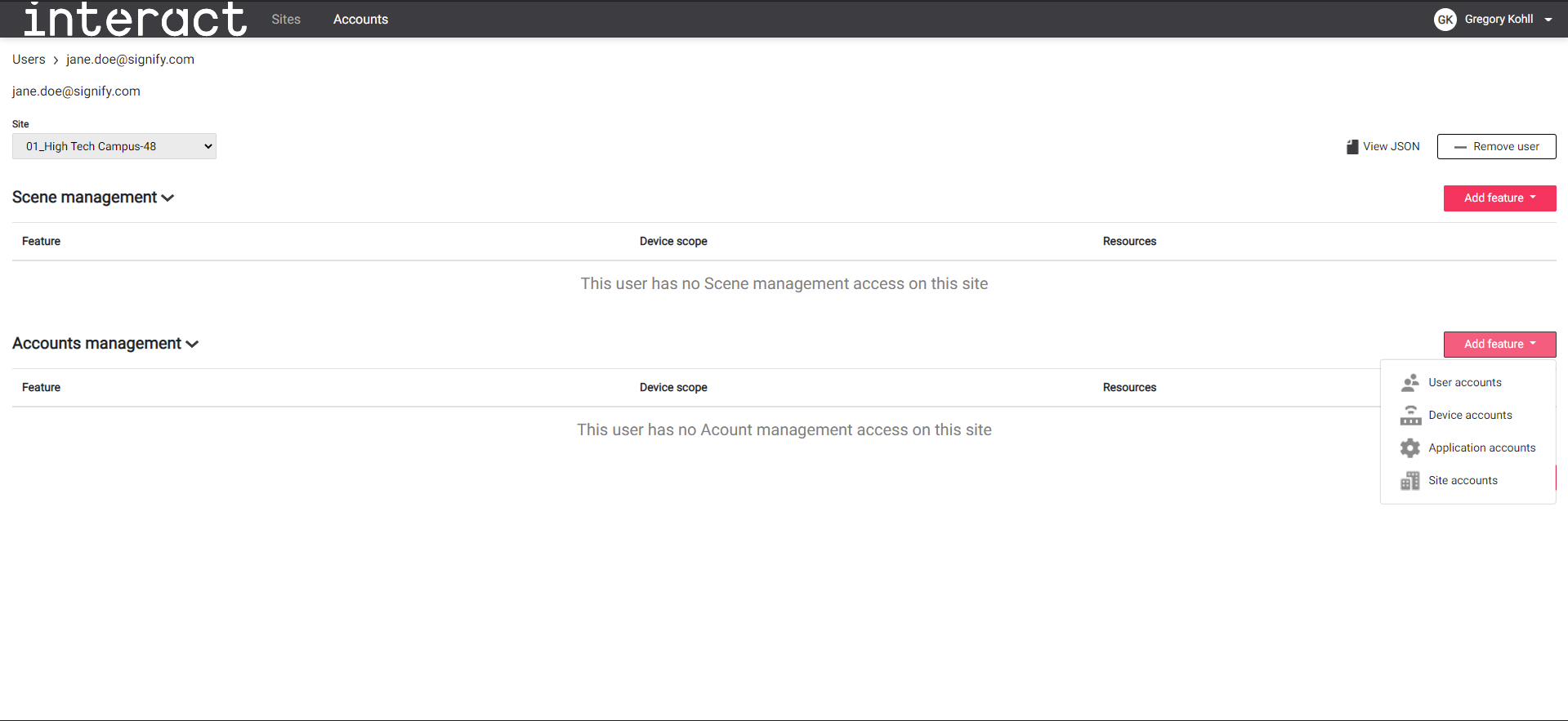 A user granted with User Management permission will be able to edit other users access and permissions.
When granting access be very careful on the user privileges that are granted to an user. This is the recommended workflow:
Installer/VAP/ Commissioning engineer can self-register for the Content App user account.
After the installation is completed, commissioning engineer must compulsorily 'Invite' the end-user with full user management rights for that Site.
The End User takes ownership of the site and user management, and from here-on decides which user should be provided further access.
This can be changed at anytime through the User List on the User Management tab.
A user can be deleted by opening their user page and clicking Remove user.

For any issues regarding user access contact activesite.support@lighting.com
Explore more articles on Content App:
---